So, I've talked about my writing process here before, but probably not in a very organized fashion. The last couple of days, however, in a forum I occasionally visit, people started talking about their writing approaches. I was originally going to answer there, but I realized that the ramble really belongs here … So, here goes nothing:
As I've mentioned quite often before, I'm a discovery writer. (in particular, for novellas and beyond; I treat shorties a little differently)
I think outlines are awesome, for the people who can use them effectively. Me … total no-go. If you're ever wondered what happened to The Sake of the Pack and Brief Horizons, both stories that I believe have huge potential and that I really like, but I can't get myself to write at all… Yeah, I did outlines for them. Totally sapped my inspiration. I hope that one day, I'll be able to get over my block for them — but I assume the only way to do this is take them both in completely different directions than I'd intended originally. Brief Horizons will be easier. I even have a few ideas I may toy with later. The Sake of the Pack will probably need a lot more time to bring back into the spotlight.
So, no outlines for me.
Instead, I start a story with a various percentage of characters, setting, and world problem (if such exists) in a "penciled in" state. The main thing for me is to find and constistently follow a unique tone (my catchall term for voice and atmosphere), that fits the setting and at least current main characters. As far as themes — I believe they should come out naturally as I develop my characters, world, and plot. After the story is completed (at least for the novellas — I've yet to complete a novel), I do one dedicated edit pass for polishing up whatever themes happened to emerge during the writing process.
When I sit down to write on any given day, I always first go over a portion of what's already been written. For me, this is an absolutely necessary step. Because I don't write regularly, and I almost always write at the end of the day, I need to get myself in the correct voice and mindset for the story I want to work on. It doesn't always work. When it doesn't work, I either jump to another story, or leave it for next time.
This is my "reader/editor" time with the story. I technically approach it as a reader, but if something bugs me, I correct it on the spot. (except for the parts I know need a major edit or a full re-write — then I'll just make notes, and I'll usually avoid reading them, so they don't leave subconscious traces on whatever re-write comes next).
Once I reach the end of the existing text, I put on my writer cap. As I said, I work without outlines. But I do usually have a next "milestone" towards which I write, that I've chosen based on a tentative direction in which I think the story should go.
Depending on where I'm in the story, the milestone may be vague, or pretty detailed.
Usually, I have three stages (percentages are approximate):
0-25% — completely free-flowing. Anything that occurs to me that sounds interesting may end up in the mix, as long as it follows the general tone of the story. Example: back when Turn of the Wilds: Bent Steel was at about 15%, a character appeared out of nowhere and took over the story. Mind you, this was a character I created because I wanted a natural way to avoid an info dump and I wasn't planning to even name him. Needless to say, he threw a big wrench into my tentative plot, but he's also the best thing that's happened to this story so far.
25-70% — the main plot's in place, the characters are mostly set, the world problems are clear, and I've figured out what the subplots are. Still a lot of room for "why not" moments, but I try to have more detailed milestones and I may even have two or more in a row already. Example: Crossing Roads now has its main characters and their motivations more or less set, I have a pretty good idea what the world problem is (though I'm not 100% sure of the details yet), I have at least a couple of ideas how I could handle the end, and I'm working towards a fairly set milestone, though I just scrapped a scene and changed how I'll get to that milestone.
70-100% — I already have a pretty good idea what the end is going to be. I usually have a list of the major milestones leading to this end. "Why not" moments are heavily scrutinized. =) Example: Broken Circles. I have a pretty good idea what's going to happen to each of the characters. I know how the plot will wrap up. I still have quite a few unknowns on the details of the subplots and how I'll bring them all together, but the milestones that lead to the finish line are more or less in place.
Another note: I don't work with outlines, but I do have "living" summaries of everything that's already happened, and I keep records of all characters and places and objects of interests, etc. Extremely useful, since I juggle so many stories, but having these also helps me make quick decisions on plot, flow, pacing, etc. while I'm writing, as well as keep internal consistency — and they do come in handy for quick reference.
Here's an example for The Journeyman (a version without the descriptions of people, places, and things to prevent spoilers, and with the plot points and summary greyed out, since I don't want this to exist on the internet, in case I actually end up publishing the damn thing):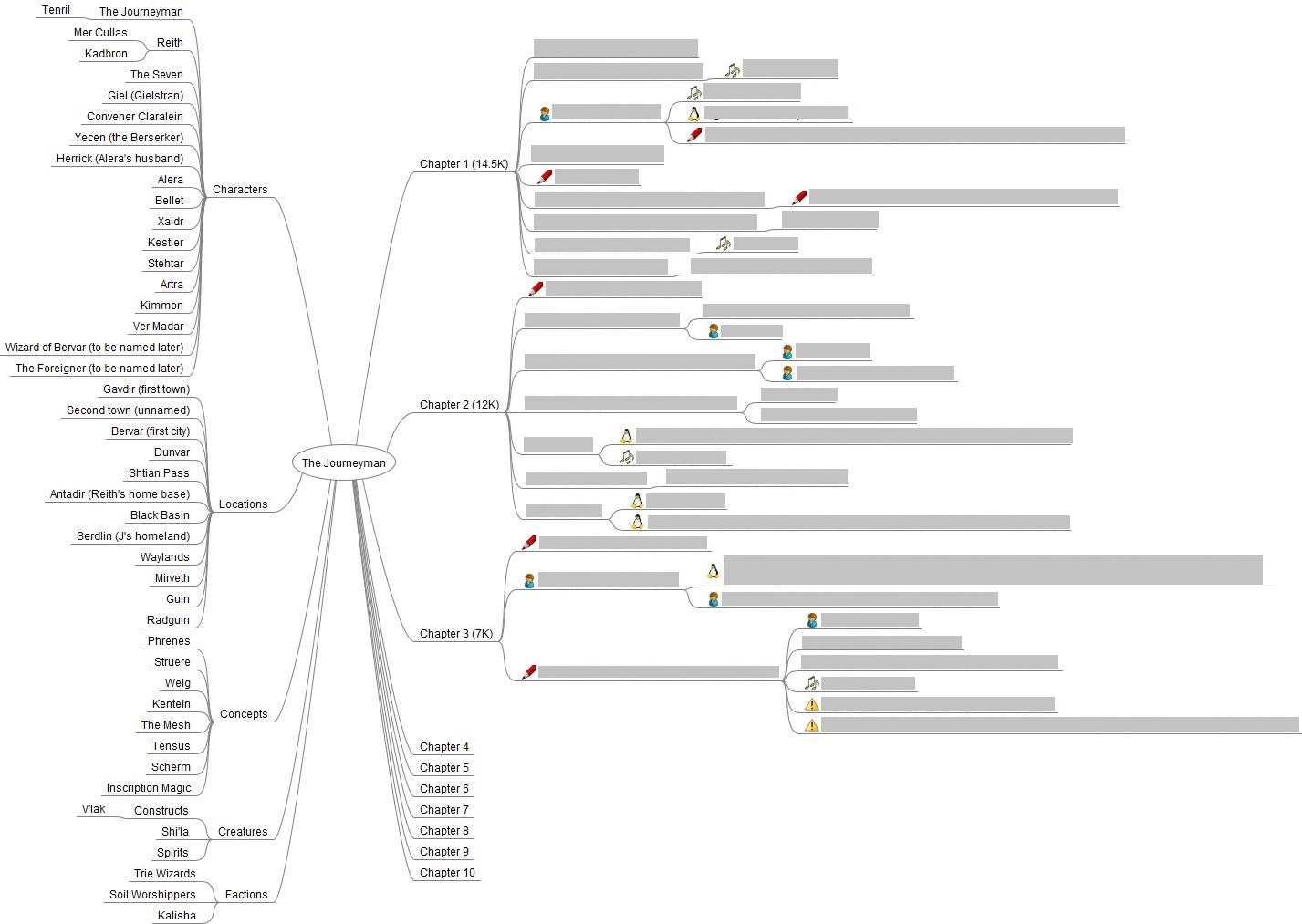 (by the way, the above's done in "Freemind" — a free mind mapping software I've grown very fond of)